Click the button to make a direct issue reporting online.
If you are looking for a more streamlined reporting experience on your mobile, download Uni3 app.
See below for further details.
Make a fault report on your mobile
Uni3 by Geely app serves more than just a food and beverage portal. It is a dedicated platform for getting facility information and making swift fault report or service request.
To report a fault:
Open Uni3 App on your device.
Select Uni3 Fault report/request & Facility information.
Choose either 'fault report' or 'request'.
Provide the necessary details.
Specify the location by entering it manually or scanning the QR code on the wall nearby.
Offer more detailed information about the request.
Choose "E-mail confirmation" if you want a follow-up.
Attach images if relevant.
Review the details by clicking "next".
Submit by selecting "Send".
For any challenges or queries, please reach out to the Uni3 front desk.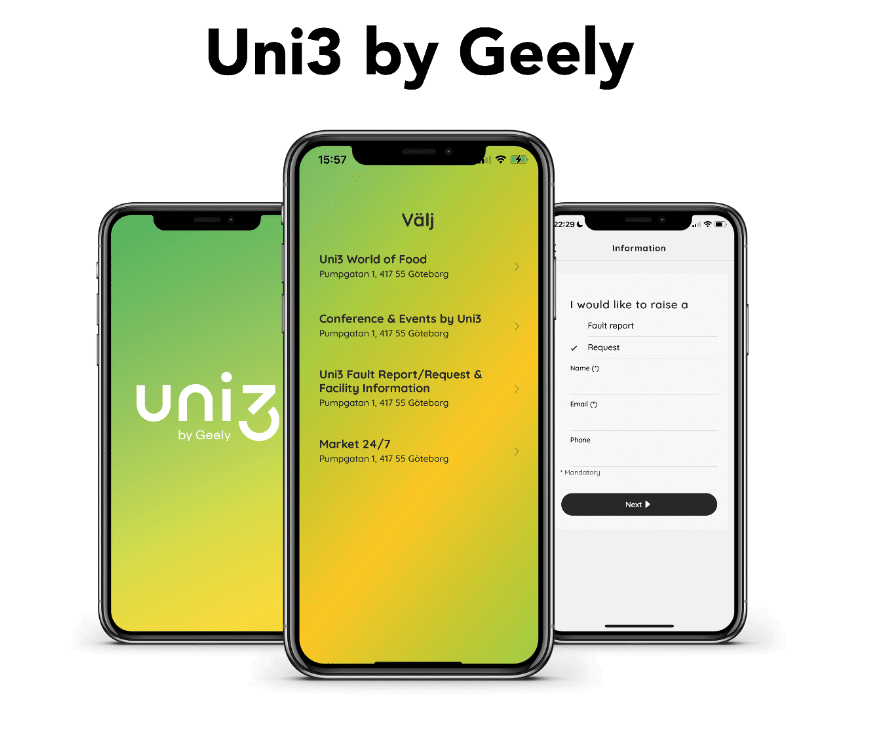 FAQ
Will I get confirmation after making a fault report?
As long as you have chosen to get E-mail confiramtion, you should receive an email when your fault report is received.
How do I follow up my errand?
Contact front desk with your errand number to follow up the status.
How do I locate myself in building?
There are many small QR code on wall of many areas and you can scan that when you come to the step to fill in the location information in app. Otherwise, you can try to find the room number of the nearest door. This number is normally on the top of door frame.