Safety and Security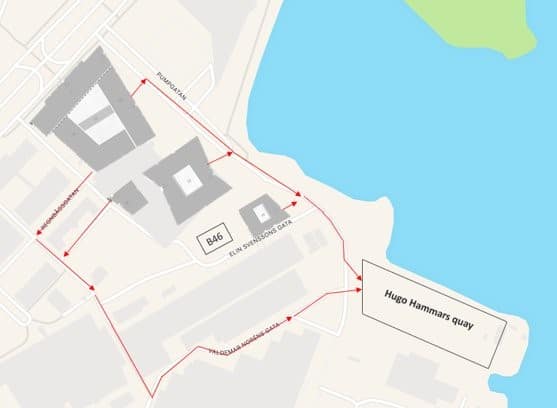 Uni3 Contact Center 24/7
+46 (0)10-470 5080
For safety, security and facility matters, you are welcome to call Uni3 contact center at +46 (0)10-470 5080 anytime.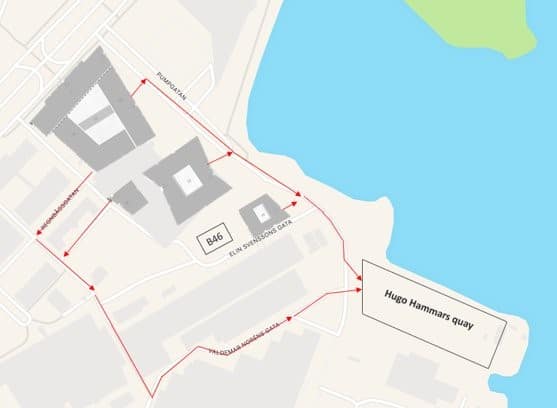 Individual access questions
For individual access question, please contact your company reception or Uni3 Front Desk at frontdesk@geelycentre.com . Uni3 front desk is also available via phone at +46 (0)10-204 0650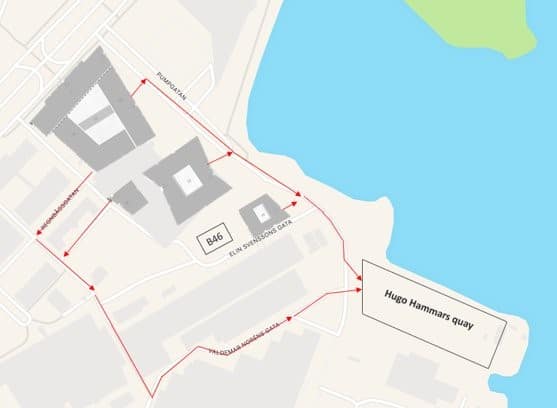 Uni3 Safety and Security team
Intrusion detection system
The premises are safeguarded by a comprehensive intrusion detection system.
The system is segmented into multiple "alarm zones," allowing tenants to secure their individual spaces outside regular hours.
In the event of an alarm, a 24/7 Alarm Monitoring Centre receives the alert and takes immediate action.
Camera surveillance
The Uni3 campus is under camera surveillance for enhanced security.
For inquiries related to privacy, please consult the privacy notice.
Emergency communication systems
Elevators
All elevators are fitted with a two-way communication system. Holding down the designated button for a minimum of 3 seconds connects you directly to the Alarm Monitoring Centre for elevator-related assistance.
Restrooms for the Disabled (RWC)
Each RWC is equipped with an emergency alarm. Activating this alarm sounds a signal outside the restroom. In areas where Uni3 oversees security, the Alarm Monitoring Centre is also notified upon alarm activation.
Evacuation and Fire Protection
Evacuation guidelines
Alarm Response
Upon hearing a fire or evacuation alarm, regardless of your floor, promptly begin evacuation procedures.
Assembly point
Proceed to the designated assembly point at Hugo Hammars quay. Refer to the attached image below for the exact location.
Evacuation routes
Avoid using elevators during evacuation. Instead, utilize the staircases to exit the building safely.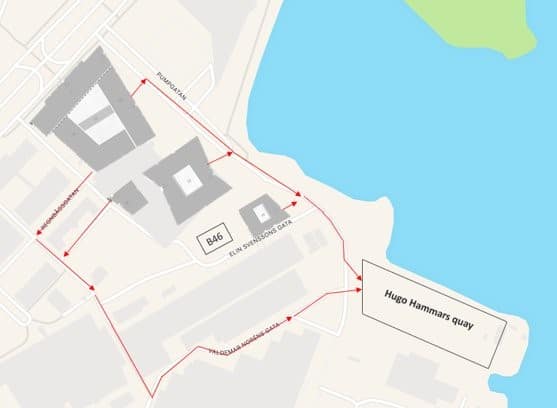 Fire safety and protection at Uni3
Comprehensive alarm system
At Uni3, the safety of our tenants is paramount. We've implemented a state-of-the-art fire and evacuation alarm system to ensure prompt alerts in the event of an emergency or fire. Additionally, all Uni3 buildings are equipped with a comprehensive fire alarm and sprinkler system.
Sequenced alarms
It is essential to understand that our alarm system operates in sequences. This design ensures that only the areas directly affected and their immediate surroundings will sound the fire and evacuation alarm. This approach is intentional to prevent unnecessary mass evacuations and ensure a more organized response.
Systematic fire protection work (SBA)
We encourage all tenants to actively participate in their own Systematic Fire Protection Work (SBA). For a deeper understanding and resources on SBA, visit the Brandskyddsföreningen website.
Inclusive evacuation plans
Every tenant is advised to establish protocols that cater to individuals with varying needs during fire alarms. This includes, but is not limited to, provisions for wheelchair users, individuals with visual or auditory impairments, and others.
Fire alarms in Uni3 Main Building
Determine your area in Uni3 Main Building here, to see which area you are located in.
Area ABC
Structure: Comprises 14 floors, a basement (floor 0), and the Theatre.
General alarm system: Functions similarly to Area DE for individual floor alarms.
Special feature: The Theatre has both sirens and a voice evacuation alarm.
Floor 1: Alarm on this floor triggers evacuation alarms on Floor 1 and voice alarms on Floors 1, 2, and the Theatre.
Floor 2: Alarm activates evacuation alarms on Floors 1 & 2 and voice alarms on the same floors and the Theatre.
The Theatre: Its alarm activates evacuation alarms from Floors 1 to 6 and voice alarms on Floors 1 & 2 and within the Theatre itself.
Area DE
Structure: Contains 8 floors and a basement (floor 0).
Floor 0: Alarm sounds if one or more detectors are triggered.
Floors 0.5-1.5: Alarm sounds if detectors on these floors or at least 2 on Floor 0 are triggered. Voice evacuation alarms (in Swedish and English) are exclusive to these floors.
Floor 2: Alarm sounds if one or more detectors are triggered.
Floors 3-8: Alarm sounds if detectors on these floors or at least 2 on the floor below are triggered.
Important: Regardless of your location, if you hear an evacuation siren or voice message, calmly and promptly proceed to the assembly point.
Fire alarms in Geely Design Center Gothenburg 
Overview: The building is equipped with a fire and evacuation alarm system to promptly alert everyone in case of emergencies.
Sequenced alarm: The alarm system is designed to alert only the directly affected and nearby areas, preventing unnecessary mass evacuations.
Alarm triggers:
Floor 0: An alarm from 1 detector activates the evacuation alarm only for this floor.
Floors 1-3: An alarm from any detector on these floors or 2 detectors on Floor 0 activates evacuation alarms for Floors 1-3 and a voice evacuation message.
Floors 4-4.5: Alarms here only activate evacuation alarms for these floors.
Aspirations System: Activates evacuation alarms for Floors 1-4.5.
Stairwells, Lift Shafts, and BFT: Alarms in these areas activate evacuation alarms for all floors.
Light Yard Aspirations System: Activates evacuation alarms for Floors 1-4.5.
Elevator Protocol: In case of an alarm, elevators will descend to the ground floor and stay there until they are reset.
Fire alarms in Lynk & Co Building
At Lynk & Co we have a fire alarm system to ensure that in case of emergency or fire, everyone affected in the building will be alerted.
Alarm signals are activated in the event of a fire alarm according to the following principles:
Alarm from 1 detector within floors 0–1 activates the alarm on those floors.
Alarm from 1 detector within floors 2–5 activates the alarm on those floors.
Alarm from 2 detectors will activate the evacuation on all floors
Alarm button at the fire protection panel activates the evacuation alarms on all floors and it should be used primarily by the rescue service.
Security awareness
Tailgating – Unauthorized access
Tailgating occurs when an unauthorized individual gains access by following an authorized person into a secure or restricted area.
Action steps: If you suspect someone is tailgating, ask them to show their access card. If they can't present a valid card, notify your supervisor or the Security Department.
Always use your own ID badge for access. Do not grant access to others with your badge.
Piggybacking
Piggybacking is when an authorized individual intentionally allows unauthorized persons to enter a secure area with them, such as holding a door open.
Action steps: Stay vigilant and ensure only authorized personnel enter secure areas. Report any observed vulnerabilities or instances of piggybacking to your supervisor or the Security Department.
External and Internal Doors
Ensuring the security of all entry and exit points in the building.
Action steps: Always ensure doors and windows are closed unless they're in use or supervised by authorized personnel. Report any vulnerabilities, like issues with locking mechanisms, according to the fault report routine.
General safety instructions
Good to keep in mind
The facility is equipped with advanced safety systems to ensure a secure environment for all occupants. Always prioritize personal safety and the safety of others.
In case of fire or other emergencies
Rescue & Alert: Prioritize the safety of individuals in immediate danger. Warn others nearby.
Call for Help: Dial the emergency response number (112) from a safe location. Provide them with your location, the nature of the emergency, and any other important details. Stay on the line until told to to end it.
Extinguish: If safe to do so, attempt to put out the fire, ensuring you avoid smoke inhalation. However, never compromise your safety.
Evacuate: Use the nearest exit or emergency route to leave the building. Go to the meeting spot for your building.
Contact Uni3: If any emergency services are called, notify the Uni3 Contact Center at +46 (0)10-470 50 80. This ensures that front desk or security personnel can assist emergency responders with access and location details.
Always be careful and think about safety first. Get to know the building's safety rules and where the emergency exits are.
Recommendation if ambulance is needed at Uni3
If there is a medical emergency at Uni3, it is crucial to act quickly and efficiently. Here is a step-by-step guide on what to do:
1. Dial Emergency Services
Always call 112 immediately.
2. Inform Uni3 front desk 
After calling 112, if possible, dial 010 470 5080 to notify Uni3 that emergency responders are en route. During regular hours, this number connects directly to the Front Desk.
3. Assign a Point of Contact
Designate someone from your team or nearby to meet the ambulance staff at the building's entrance. Remember, emergency personnel won't have access cards to
navigate the building.
4. Directing the Ambulance to the Right Entrance
Guide the emergency responders to the main entrance of your specific building for the quickest access.
5. Using Elevators for Stretcher Access
Main Building: All elevator halls in the main building can accommodate an ambulance stretcher. To summon the larger elevator, press the button for disabled access first, followed by the desired floor button.
Lynk & Co Building: The standard elevator is suitable for stretchers.
Geely Design Building: Utilize the car elevator for stretcher access.
Always prioritize the patient's well-being and ensure clear communication with emergency responders. Familiarize yourself with these steps to be prepared in case of an emergency.