Click the button to make a direct issue reporting online.
If you are looking for a more streamlined reporting experience on your mobile, choose "Uni3 Fault Report/Request & Facility Information" in Uni3 app.
Change building below in order to view relevant information
Visit address
Pumpgatan 1, 417 55 Gothenburg
Visitor check-in and check-out
Visitors are required to check in at the kiosks located in the Uni3 Lobby. Approval from the host is mandatory to pass through the speed gates. Hosts are responsible for collecting their visitors and accompanying them throughout the campus. Upon departure, visitors must check out at the kiosks and return their visitor tags to the Uni3 front desk.
Guest WIFI
WIFI name: Uni3_Guest
You need to agree to terms in a browser before accessing the internet.
Accessibility information
There is a specific entrance for disabled employees and visitors at Lindholmsallén 8B. A sign with contact information for the front desk is displayed there, and our hosts are available to assist guests as needed.
Fire protection and alarm guidelines
Click here to see which area you are located in Uni3 Main building.
Area ABC
This section spans 14 floors, including a basement (floor 0) and the Theatre. The fire and evacuation alarm system here mirrors that of Area DE for individual floors, with a notable exception in the Theatre.
Theatre: Features both sirens and a spoken fire and evacuation alarm.
Floor 1: If detectors are activated, the evacuation alarm sounds on floor 1, with spoken alarms on floors 1 & 2 and in the Theatre.
Floor 2: Activation triggers evacuation alarms on floors 1 & 2, with spoken alarms on the same floors and in the Theatre.
The Theatre: If its detectors are set off, evacuation alarms sound from floors 1 to 6, with spoken alarms on floors 1 & 2 and in the Theatre.
Important: Regardless of your location, if you hear an evacuation siren or spoken message—even if it is not on your immediate floor—please evacuate calmly and proceed to the designated assembly point.
Area DE
This section of the building spans 8 floors, including a basement (floor 0). The alarm triggers are as follows:
Floor 0 (Basement): Activation of 1 or more detectors will sound the evacuation alarm.
Floor 0.5–1.5:
Activation of 1 or more detectors on these floors will sound the evacuation alarm.
If at least 2 detectors on floor 0 are triggered, the evacuation alarm will also sound on these floors.
A spoken evacuation message, available in both Swedish and English, is exclusive to these floors.
Floor 2: Activation of 1 or more detectors will sound the evacuation alarm.
Floor 3–8:
Activation of 1 or more detectors on any of these floors will sound the evacuation alarm.
If at least 2 detectors on the floor directly below are triggered, the evacuation alarm will also sound on the current floor.
Assembly point
The assembly point is located at Hugo Hammars quay.
Click  here to see details about evacuation.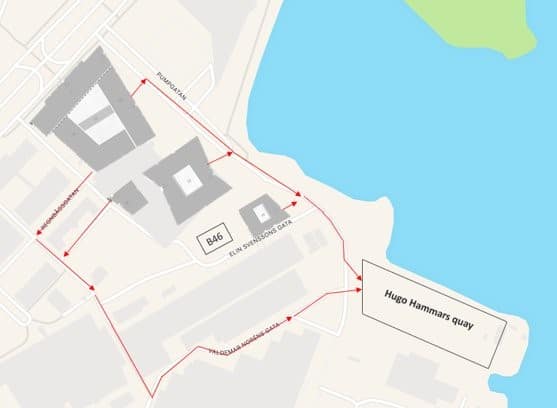 Climate curtains
The operation of climate curtains varies slightly across different areas.
In areas D & E on each floor (view area here), a keypad is available for manual override of the automated function.
Meeting rooms and open landscapes with windows fitted with automatic climate curtains also feature local control panels for adjustments.
First aid kit and defibrillator
Floor 0
1 first aid kit by the toilet/shower close to stairwell E
Floor 1
1 defibrillator across from Uni3 Front Desk by the exit
1 defibrillator in Uni3 Conference Centre across elevator stairwell E
2 first aid kit by the toilets in Uni3 Conference Centre by stairwell D
2 first aid kit by the toilets in Uni3 Conference Centre by stairwell E
Lighting control overview
The building's lighting is managed through a KNX bus system, integrating presence sensors, timers, and local light switches.
Public Areas: Motion detectors activate lights upon detecting movement. During the day, lights remain passive without movement, with wall and ceiling lights turned off. At night, lights are completely off unless movement is detected.
Conference Rooms: Many rooms are equipped with local switches. To turn on the lights, click "Belysning +". For brightness adjustments, hold the button until the desired level is reached. Remember to turn off the lights upon exiting by pressing "Belysning –".
Logistic policy
Receiving packages
Definition
Maximum dimensions per delivery: (Length + 2x Width + 2x Height) ≤ 250 cm
Maximum weight per delivery: ≤ 15 kg
Delivery address
Pumpgatan 1, 417 55 Gothenburg
Policy
Tenants are able to get the package receiving service from Uni3 front desk.
Tenants should adhere to the definition of packages stated above
Please inform front desk if the package contains high value objects
Receiving Goods
Definition
Measurement per delivery (Length + 2x Width + 2x Height) exceeds 250 cm
Weight per delivery does not exceed 15 kg
For more details or to discuss this service, please reach out to the front desk at this time.
Other questions
If you have other questions or request regarding goods and packages, please send an email to frontdesk@uni3bygeely.com
Postage service
Incoming letters
Address incoming letters to the visit address or box address relevant to your organization.
If your organization has a mailbox at Uni3, find it at the entrance for Stair B.
Letters delivered to the Uni3 front desk via a service agreement will prompt the front desk to contact the designated individuals upon arrival.
Outgoing letters
For stamped outgoing letters, drop them off at the front desk.
If your company operates its own reception, please liaise with them before handling outgoing mail.
Express delivery
If your company maintains a separate reception, please coordinate with them regarding express deliveries.
For other inquiries or specific company-related details, reach out to the Uni3 front desk.
Vending machines
Vending machines providing beverages, food and snacks can be found on floor 1.
Uni3 Main Building house rules
Emergency Contact: For urgent safety, security, and facility concerns, reach out to the Uni3 Contact Centre at 010-470 50 80 (available 24/7).
Facility Issues: Report any facility faults promptly via our fault report systems to prevent further damage.
Food Consumption: We advise eating only in designated kitchen and lounge areas.
Smoking Restrictions: Smoking is prohibited throughout the building and near entrances. Use designated smoking zones on campus.
Open Flames: The use of candles or any open flames is strictly forbidden.
Handling Hazardous Materials: Use and store hazardous or chemical products only in specified areas, following product-specific guidelines.
Glass Surfaces: Refrain from writing on or using glass walls and windows as whiteboards. Avoid attaching papers to outward-facing windows.
E-Vehicles & Batteries: Do not store or charge electric bikes, scooters, or their batteries in offices. Use designated areas due to fire risks.
Electrical Pillars: Do not relocate pillars with electrical/network connections without landlord approval.
Climate Curtains: Keep items away from windows to ensure the proper function of automatic climate curtains. Damages due to obstructions may incur costs for responsible tenants.
Electrical Appliances: Only use appliances with the CE (Conformité Européenne) mark. All other appliances are not permitted. Be aware of the difference between the European Conformance CE mark and the "China Export" CE symbol (refer to the provided image).
Electrical Installations: Any temporary or permanent electrical setups require prior approval from the landlord.
Technical Equipment Installation: Before introducing technical business equipment that requires installation, coordinate with the landlord to ensure compliance.
Office Alterations: Major changes, such as wall modifications, in tenant spaces need prior authorization from the landlord. For change requests, click here.
Postings in Common Areas: Refrain from placing posters, placards, or similar items on doors, glass surfaces, elevators, or walls in shared spaces.
Storage Restrictions: Storing items like bicycles, scooters, or boxes in entrances, common areas, stairwells, or Front Desk areas is prohibited due to fire safety and evacuation considerations.
Garage Use: Only park in designated spots with the necessary permissions. Avoid temporary parking outside these marked areas.
Note:
These guidelines apply universally across the campus. Individual tenants can establish additional rules specific to their areas as needed.
Miljöbyggnad is a Swedish system for environmental certification of buildings and today over 2300 buildings are certified or provisionally certified in Miljöbyggnad. Environmental certification of a building means that the environmental work and the building's environmental performance are reviewed by a third party.
Read more
Certified with Miljöbyggnad Silver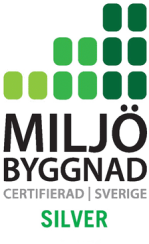 Good Environmental Choice means:
Good Environmental Choice is an independent eco-label that contributes to a healthier nature and
fewer hazardous substances in everyday products. The environmental requirements are set and
controlled by the Swedish Society for Nature Conservation.
Read more
Good Environmental Choice